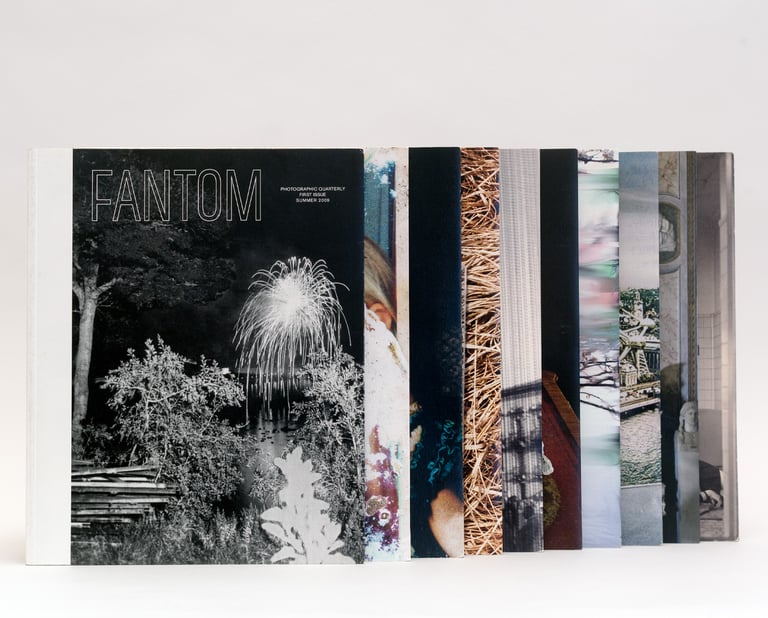 Fantom Magazine (Single Issues)
Published by Boiler, between Milan and New York from 2009-12 in ten issues, Fantom was an international quarterly publication about the uses and abuses of photography.
Fantom enframes its contents in sectors: EYE TO EYE where photographers converse; SAMPLE SIZE with ready made discoveries by excellent eyes; BY APPOINTMENT ONLY offered by a collector or about a collection; EYE OF THE BEHOLDER where gallerists celebrate the time-based talents they expose and trade; and MEANS TO AN END surveying the unintentional surprises of purposeful image production, i.e. scientific, commercial, surveillance, documentary and the like.
The magazine was designed by Davies Costacurta of agency SM – with the input of Pino Pipoli – from issue 00 to issue 06, by Giorgio Di Salvo (issue 07) and by Fabrizio Radaelli (issues 08 and 09).
Issue list:
Issue 00. Summer 2009
Issue 01. Autumn 2009
Issue 02. Winter 2010
Issue 03. Spring 2010
Issue 04. Summer 2010
Issue 05. Autumn 2010
Issue 06. Winter 2010
Issue 07. Spring/Summer 2011
Issue 08. Autumn 2011
(Issue 09. Spring 2012 - SOLD OUT, ONLY AVAILABLE WITH THE BUNDLE)

For the full content list of each issue, please see our website: https://www.fantomprojects.org/magazine/